CCTV DVR INSTALLATION LONDON
CCTV DVR Security Systems Installation
CCTV is increasingly popular for home owners, and is one line of defense against burglary and crime.
Some equipment is needed to accompany the camera e.g. a DVR/NVR to store and a monitor to view the footage.
How do CCTV cameras work?    dahua
There are different types of CCTV cameras. Wired cameras connect the camera directly to the monitor through the recording device(DVR). Wireless cameras usually work through the wifi and sometimes come with a network recorder. Both of these types of camera can be monitored by phones and other portable screens. Smart security cameras link to an app so that you can monitor your house while you are out. The most cost-effective type of surveillance camera is the stand-alone camera which stores recordings locally or in a cloud, and can be viewed remotely on your phone or other devices. The latest technology offers smart notification of movement, the auto-tracking of moving objects and face-recognition options.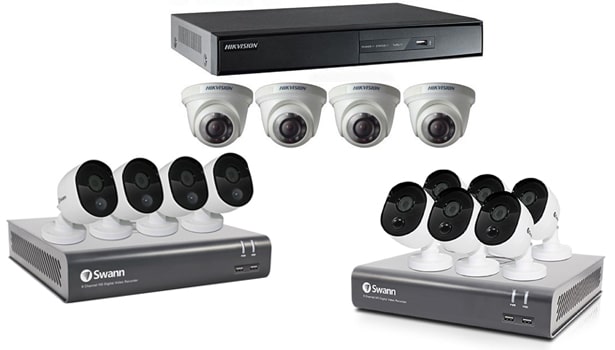 Installation CCTV DVR
Cameras should be placed where they cannot be interfered with, but are accessible enough for maintenance and cleaning. There are many different types of camera. The resolution should be good enough to identify a face if the evidence is to be used in court. Some cameras offer built-in night vision technology and some others need to be incorporated with infra-red light (IR) as they do not have built-in IR. Weatherproof cameras are needed for outside, and vandal-proof cameras are available. Some come with motion-detectors so that they only begin filming when motion is detected. Where there is a problem with the electric supply, the battery-operated camera will be the preferred option. Ask us for CCTV DVR INSTALLATION IN LONDON
Our engineers at Reliable Electrics can advise on CCTV DVR Installation, and on how many cameras you need to give full coverage for your property.
Reliable Electric company is ready to provide the best CCTV DVR installation in London city.
Burglar alarms
At Reliable Electrics, our electrical engineers and electricians based in North London can design and install an alarm to meet your specific requirements, whether you would like a standard alarm, or a system using the most sophisticated technology.
Burglar alarms which have sirens on the outside of the house are an excellent deterrent to burglars, and almost one third of houses now have one. The police recommend a burglar alarm as part of a range of crime prevention measures, although it is vital to also have suitable locks. External lighting and CCTV are also recommended.
Both the London Metropolitan police and a 'Which!' survey of ex-burglars say you are less likely to become a victim of burglary if you install an alarm!
Which type of burglar alarm should I choose?
This depends on your preferences and requirements.
There are different types of alarm to choose from, and you can have a combination of the features listed below:
A sound only alarm
An alarm which calls your mobile or a neighbour's phone
An alarm which is part of a smart-home security system, allowing you to control elements (e.g. lighting, motion sensors, and cameras) from your smart-phone.
An alarm which contacts a monitoring station
A wired alarm
A wireless alarm connected through the GSM or WIFI.

CCTV DVR INSTALLATION LONDON
Modern alarm sensors are designed so that pets can be free to wander around without triggering the alarm, minimising false alarms.
Alarms have a 'Part-guard' option so that you can set it at night-time while still having access to several rooms, including the bathroom.
It is possible to have panic buttons installed, linked to your alarm.
When you buy home insurance, it should be cheaper if you have a burglar alarm. However, do remember that if you tell your insurance company that you have an alarm, you need to use it! They may not pay out after a burglary if they check your alarm records and find you do not use the alarm regularly.
We provide an alarm maintenance service; an annual service is recommended for most alarm systems.
Having an alarm can give you peace of mind for yourself and your family – call for a quote today.
Request Service Today For CCTV DVR Installation
London