Thermal Imaging surveys in London
Thermal imaging Surveys in London is an invaluable way of surveying electrics and pin-pointing faults before they develop and cause damage.
Thermal imaging Survey is increasingly popular today in a wide-range of preventative maintenance, in electrical, mechanical and building services. It is also used to analyse the energy-efficiency of the building, detecting where there is a loss of heat.
This advanced non-contact survey uses infra-red detectors to analyse any object with a slightly different temperature from the surrounding environment, pinpointing the location of hidden faults or developing electrical faults in your machinery or installation.
Having regular thermal imaging surveys can prevent large financial losses caused by breakdown of machinery, or electrical malfunction affecting the building or production line. in londo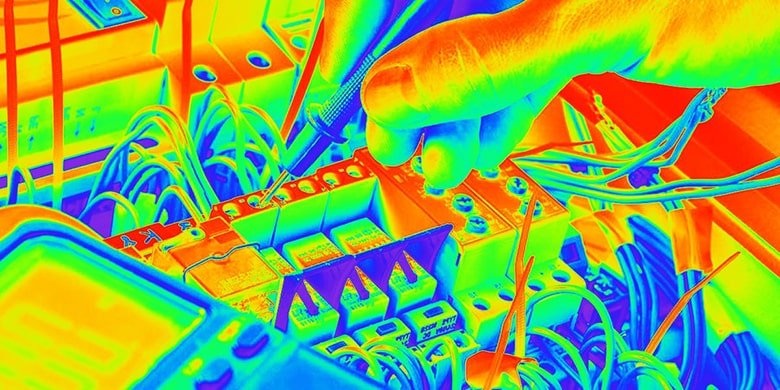 A survey can also prevent fire by revealing any hotspots caused by electrical loose connections or over-loading, that might not be visible to the naked eye.
Why use Thermal Imaging Surveys in London?
Identify faults in mechanical components which are over-heating
Non-intrusive survey
No disconnection or disruption of electrical supply is necessary
Identify the faults in wiring, switch-gear and other electrical equipment.
Popular tool for preventive maintenance
Identify potential fire hazards
Identify heat loss in your building in order to improve energy efficiency
Identifies damp and water leaks in the building by thermal imaging survey
Why us?
Friendly experienced electrical thermal imagers
Our experienced surveyors are qualified thermal imagers as well as fully qualified and registered electricians
High-tech thermal imaging cameras used for accurate results
Minimum disruption to your business
At the end of every inspection, you will receive a copy of the full survey report. In the case of any faults, a consultation and repair service will be available if needed. It will be provided to the client in a separate quote on request.
Our Thermal imaging Surveys in London electrical engineers work in North London and beyond. Call us today on 07376 668 060 or Fill the request form